Centura Sports Medicine
Where excellence and dedication intersect
About Centura Sports Medicine
At Centura Sports Medicine, our award-winning physicians and researchers are changing the way people heal, move and get back to doing what they love. Our breakthroughs are leading the way in Colorado Springs and throughout the world from the treatment of sports-related injuries like a concussion to innovative therapy programs that optimize sports performance.

Whether you're a professional athlete or lead an active lifestyle, a sports injury can be bothersome or even debilitating. We understand these challenges and are committed to your total wellness every step of the way. Our team of subspecialists brings years of training, experience and research to every patient.

Centura Sports Medicine offers quick access and comprehensive care that help you return to doing what you love. At the William J. Hybl Sports Medicine clinic, our comprehensive services are designed to identify sports injuries and provide effective treatments that can help you return to play as safely and quickly as possible.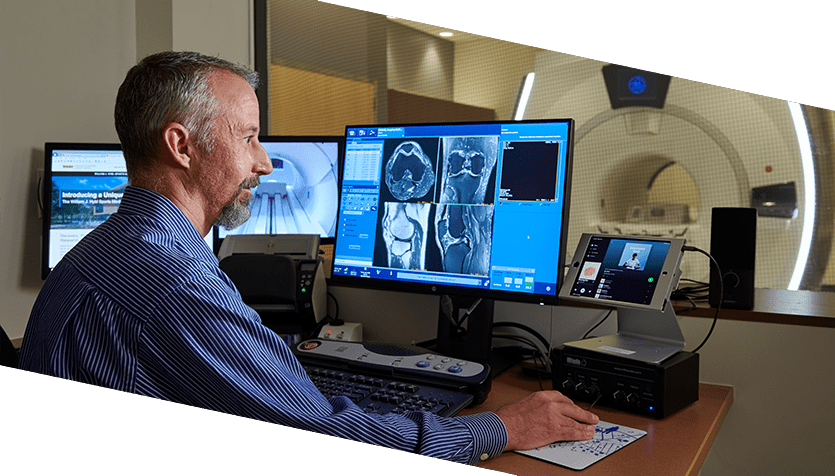 Orthopedic injuries can be caused by sudden movement or stress, or by overuse of the body's joints. Among the most commonly treated sports injuries and conditions are:
• Ankle fractures
• Ankle tendon injuries
• Biceps tendon injuries
• Chondromalacia (runner's knee)
• Foot fracture
• Hand and finger tendon injuries
• Hand fractures
• Hip impingement
• Hip labral tear
• Knee ligament tears (ACL, MCL LCL, PCL)
• Meniscus tear
• Patellar tendonitis
• Rotator cuff tear
• Ruptured Achilles tendon
• Shoulder dislocation
• Shoulder labral tear
• Tarsal tunnel syndrome
• Tennis elbow/tendinitis
Recognizing When to Seek Treatment
Aches and pains are often an unavoidable part of any sport, but that doesn't mean that pain or stiffness should be taken lightly. An injury that's left untreated often requires a longer recovery time and may even lead to permanent damage.
It's important you seek professional help when you experience:

• Ongoing pain
• Inability to apply weight on affected area
• Lack of mobility
• Popping, grinding or cracking sound in use
• Swelling
• Throbbing
• Weakness

Our specialists are skilled in diagnosing the severity of sports-related injuries. This often begins with a review of your medical history and discussion about the details of any injury or trauma you may have experienced. After reviewing all your symptoms, and performing a complete examination, additional tests such as X-rays may be necessary to assess the extent of your injury.
For many injuries, the first step in recovery is through rest, ice, compression, and elevation (RICE). When further treatment is needed, our sports injury experts can provide a wide range of effective options including:
How we treat your injuries:
• Arthroscopy, which uses a small incision and
tiny camera to diagnose and treat joints
• Cast immobilization
• Functional cast or brace
• Manipulation under anesthesia
• Nonsteroidal anti-inflammatory medicines
• Physical therapy
• Steroid injections
• Surgical treatment
• Targeted exercise
• Traction, which helps relieve spinal pressure

Additional Medical Services
Our World-Class Providers
The doctors in the Hybl Center are Centura Health experts on a mission to make you as healthy as you can be and the best you can be. Our caregivers are ready to treat, heal and inspire you to get ahead.
To learn more about our world-class Centura Health providers, click on a provider image for a complete overview on the Centura website.
"What we do, it isn't about checking boxes, it's about the human element. It's about really caring for and treating patients like people. We have to listen to their stories and make sure we're doing what's best for them in any situation."
Kevin Lesh, MD